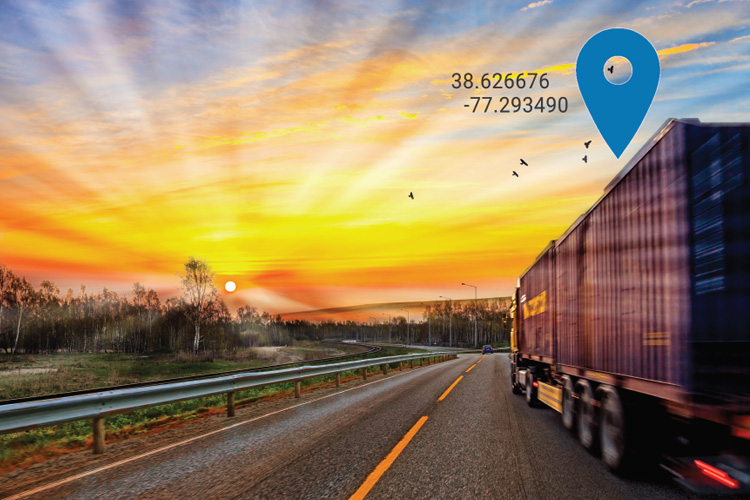 Without the transportation industry, America stops. The American Trucking Association (ATA) predicts that more than 15 billion tons of freight will be moved in 2017 and it will rise to nearly 21 billion tons by 2028. New technologies, growing customer demands and enforcement of the ELD mandate can leave transportation professionals feeling uneasy about the future. One way to soothe this feeling and obtain peace of mind is by embracing location-based services (LBS).
LBS help optimize load tracking and achieve system-wide visibility so third-party logistics providers (3PLs), carriers and other partners can address demand uncertainty, cut operational expenses and grow their business.
Optimize Load Tracking with LBS
With LBS, transportation partners can constantly monitor the global location of loads, assets and drivers in real time throughout the transit lifecycle. For tracking loads or assets, location-enabled devices and sensors can be fixed to pallets, shipping containers, boxes and more. Additionally, a driver's existing mobile phone can be used (with consent) to report real-time location from their mobile carrier. Utilizing mobile carrier location does not require specialized software or app downloads on the device, there are no in-vehicle hardware costs and virtually any phone can be located. Accessing location information via LBS eliminates the need for manual driver check-ins or check calls and it also allows partners to verify the status of seasonal or independent drivers and more.
Constant access to driver location via their mobile device eliminates the need for traditional check calls that can be time-consuming, bothersome and costly. Drivers are not compelled to pull over or risk breaking hands-free driving laws to answer the check calls. By automating this process using LBS, brokers have on-demand access to driver location so they can focus on other tasks and obtain more business.
Furthermore, LBS enable transportation partners to verify the status of independent drivers because there is no requirement for software, app or location tracking equipment. A driver's existing mobile phone can serve as a proxy for their location while on the road so they can be monitored without issue. This minimizes potential friction when hiring drivers and allows businesses to better prepare and scale up as needed to accommodate peak demand.
Achieve System-wide Visibility with LBS
The combination of location tracking for loads, assets and drivers via LBS help facilitate system-wide inventory management and improved communications between all transportation partners. Possessing the ability to instantly locate shipments in transit enables greater accuracy for ETAs and ETDs so partners throughout each stage in the transit lifecycle are better prepared to act, react and predict.
Dispatchers are among the prime beneficiaries of LBS because location data is used for driver assignments and load finding. Location data can be added as a qualifier when assigning new jobs or assisting drivers who are trying to find loads. Using driver location, dispatchers can select the driver closest to a load or drop off point. These processes are more efficient and can increase job throughput.
Rerouting drivers in transit is another benefit to using LBS as dispatchers and transportation intermediaries can plan for and minimize the potential impact of delays. When scenarios like heavy traffic, inclement weather, on-road accidents and more arise, a dispatcher or transportation intermediary can direct drivers around congested areas or to other warehouses. Being prepared and acting quickly to reroute drivers using LBS can also reduce wait times for loading and unloading at warehouses. Wait times impact drivers but they also have a trickle-down effect on warehouse planning and scheduling.
Moreover, LBS can provide data-rich insights into efficiency and performance that are advantageous for reporting and compliance. Location data can be helpful when reviewing fuel consumption, identifying new routes, evaluating maintenance needs for trucks or equipment and other operational activities. LBS can also assist with identifying gaps in the transit lifecycle.