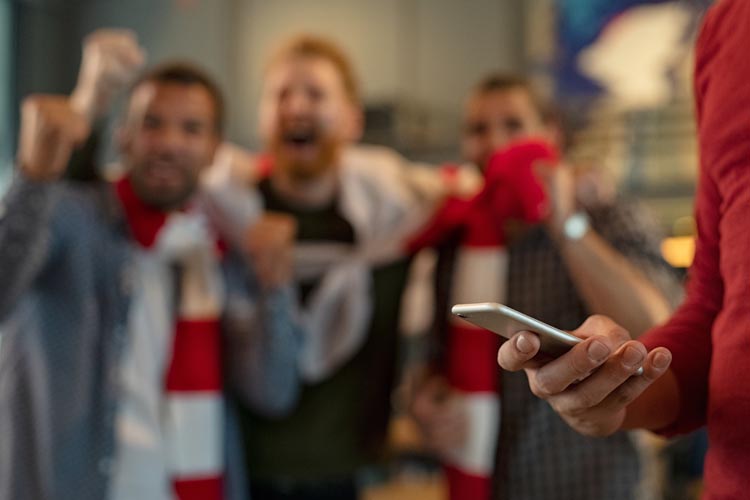 The popularity of Daily Fantasy Sports (DFS) is growing significantly across the United States as currently, 43 of 50 states have legalized Daily Fantasy Sports. While it's great to see this change sweep across the nation in recent years, there's plenty of legal reasons why Daily Fantasy Sports isn't available everywhere in the United States.
Smartphones, Cloud Technology, and Mobile gaming apps have accelerated the popularity of the online gaming culture, and it is hard to comprehend that DFS is still in its relative infancy. Varying state laws can still make it challenging for new players to enjoy DFS responsibly from state to state.
As the technology evolves and matures, DFS players can actively participate in online gaming safely in the states where it is legal. As a result, the technology used by DFS operators includes geolocation to help verify a user in a place where it is allowed.
What is Daily Fantasy Sports?
Daily Fantasy Sports is an outgrowth of traditional fantasy sports leagues such as a Fantasy Football league among friends or work colleagues. Traditional fantasy sports leagues usually run in parallel to the entire season where participants are given a salary cap to create a winning team and they earn points with the best performing players in the real world.
Daily Fantasy Sports is the same concept, however, the game is based on a single day's play or sometimes over a single game week, and with cash payouts for winning participants. The games can be decided in head-to-head tournaments, larger pooled games, or 50/50 cash game competitions.
DFS gaming is available for all of the popular sports in the United States, with American Football (College and NFL), Soccer, Nascar, Baseball, and Basketball being some of the most popular.
Why are Fantasy Sports so popular?
Sports fans are extremely passionate about the success of their team and follow the progress of their chosen sport in great detail. DFS takes this to the next level where any sports fan has the opportunity to gain financially by matching their knowledge about the sport against real-world game outcomes.
This level of control excites the DFS gamer as it empowers the player to have a better chance of winning based on their own skill and preparation. While DFS is classified as a skills-based game, the uncertainty of competitive outcomes in the real world creates a sense of uncertainty and suspense that draws the gamers in and keeps them coming back for more.
What is the Legal Status of Fantasy Sports?
Understanding state-by-state restrictions on DFS can be confusing and seem like a complete lottery because they depend on where you want to play in the United States. Up until 2018, all forms of online betting were illegal in the United States, apart from minor exceptions at places such as Las Vegas.
Today that federal legislation has been rescinded, pushing the responsibility onto the legislators of each state.
Attitudes towards igaming, in general, are changing, and the majority of states now allow operators to offer some form of Daily Fantasy Sports. For players located in Idaho, Montana, Nevada, Hawaii, and Washington State, Daily Fantasy Sports is still classified as illegal.
However, new legislation is being introduced all the time, and more states are moving towards a permissive attitude towards Daily Fantasy Sports.
When did Fantasy Sports become Legal?
It was tough for the states to greenlight DFS because of the perception that DFS was akin to sports betting - which has been illegal for many years until recently.
The legality of Daily Fantasy Sport by state varies throughout the United States. In 2019, the federal ban on online sports betting, the Professional and Amateur Sports Protection Act (PASPA) of 1992 was overturned, paving the way for Congress to step back and allow individual states to set their own rulings on the legal status of sports betting.
Although the repeal of PASPA led to the legalization of sports betting initially, the greater effect was that the repeal paved the way for more online betting including online casinos, online poker, and Daily Fantasy Sports.
With the PASPA legal victory, it could finally be successfully argued that Daily Fantasy Sports is a game of skill, not a game of chance like roulette. The designation of "skill vs luck" is what allows states to create their own rulings on DFS. This is why we have a confusing picture, with different legal statuses dependent on which state you are located in.
Where can I play Fantasy Sports online in the US?
It's more of a question of where you cannot play Fantasy Sports online these days because of fantasy sports legality by state. Most Daily Fantasy services block users of Hawaii, Idaho, Montana, Nevada, and Washington due to their strict gambling laws. Lousiana is a bit tougher to judge since different parishes in the state have decided either to allow or prevent DFS in their region.
Which Platform offers legal fantasy sports?
Daily Fantasy Sports is dominated by the two big players, DraftKings and Fandual. You are probably well aware of these companies if you watch any of the big sports on TV, as their ads are prominent during TV sports events. Fanduel has the largest user base and the highest number of competitions to choose from, making it a very popular choice. DraftKings is also a fan favorite and while they are not the biggest, they have diverse features not found anywhere else that sports fans love.
Since 2019, several smaller operators have grown in popularity, including:
StarsDraft: is gaining popularity because of the huge numbers of stats available to users, letting players craft a team based purely on past performance statistics.
Monkey Knife Fight: is another DFS platform that aims to simplify DFS, making access all the faster. They aim to entice the hobbyist user and their tagline is "Daily Fantasy Sports for the Rest of Us".
Yahoo DFS: Yahoo decided to make Fantasy Sports easy and, most importantly, free in 1999. As a result the platform still has many players. Yahoo continues to roll out new features, balancing the game and focusing on transparency.
ThriveFantasy: offers DFS for the casual sports and esports fan. The platform is partnered with the Jacksonville Jaguars and the Los Angeles Chargers.
FantasyDraft: does DFS for every major sport but with cashback and referral rewards added to the DFS mix.
What does this have to do with Location?
Due to the complexity of state-by-state law, geolocation tools are hugely important for the Daily Fantasy Sports companies to stay legally compliant. These companies are audited to ensure mobile device and gamer locations are in line with local and federal regulations.
Tech-savvy users can try to spoof their location with a VPN or proxy bypass, and geolocation technology has the critical job of identifying a user's location and flagging known bypass proxies or VPNs. This critical technology is provided by geolocation service providers through location API platforms.
What does LocationSmart do for fantasy sports operators?
LocationSmart offers a comprehensive, secure real-time web services API to enable geolocation validation for Mobile Gaming Operators. We help operators with location validation tools to ensure geolocation compliance for online gaming services.
Learn how LocationSmart helps with Internet Gaming Compliance and grab our Mobile Gaming Product Brief.
We keep our customers compliant with regulations in jurisdictions across the US and around the world. Read our Gaming Compliance Best Practices White Paper.